Round Foot° Homes - Our Mission
Our Mission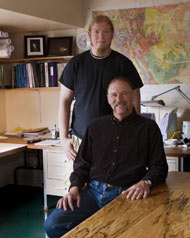 Our desire is to benefit families with our many years of knowledge and building experience with alternative building methods and products. We wish to promote the mind-set of anti-wastefulness, best-use of material and continued learning coupled with imagination, creativity and enthusiasm for the greater good.
We will provide you with a clear plan, along with the knowledge and resources to build your own earth-conscious home for your family.
We look forward to building with you!
90% Energy Efficient Homes
Want to know more...
about energy efficient homes & ratings?
Go!

Site last updated on January 13, 2010
Check back for updates!
Coming Soon!
......a complete choice of floor plans and elevations, online ordering, and Photo Gallery!