Round Foot° Homes - Engineering
Engineering for Greener World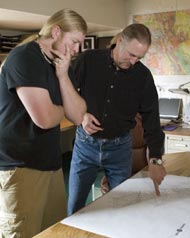 All of our plans are fully engineered by our affiliate company, Crown Jade Design & Engineering. Crown Jade Engineering will stamp sets of Round Foot° Homes plans engineered for Arizona, Colorado, Connecticut, Kentucky, Minnesota, Idaho, New Mexico, Pennsylvania, Wyoming.
Our plans strictly follow the International Building Codes and provide everything you need to obtain your local building permit. Each set of plans purchased includes: a full floor plan, detailed CAD elevations, comprehensive structural notes, complete detail sections and load calculations for snow, wind and seismic conditions for your local area; in states we are not licensed in these calculations are provided for review by your local engineer.
Check out our "What's New" section to keep abreast of new laws that can affect your project.
Local Building Department Requirements
Building Departments in different areas have different requirements for engineering stamps on structural plans. Some building departments follow the International Residential Code (IRC), a version of the IBC. The IRC lists prescriptive standards (a prescribed list of foundation systems, floor joists, wall studs, roof rafters, etc.) for types of construction, as opposed to calculation standards as listed in the IBC. If the IRC prescribed standards are followed, and are clearly labeled on the plans, the structure is considered pre-engineered, and the building department can review the plans and accept them without an engineers stamp.
Some building departments require an engineered foundation only, as the soil is the only variable that canít be prescribed for.

Site last updated on January 13, 2010
Check back for updates!
Coming Soon!
......a complete choice of floor plans and elevations, online ordering, and Photo Gallery!